Stevvi Cook, Archives Director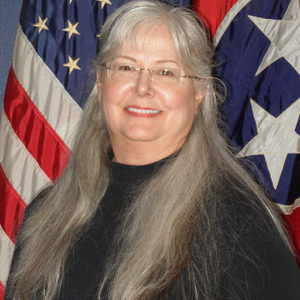 The Grainger County Archives is the repository for the permanent-value records of Grainger County government. The Archives also serves as the county research center for history and genealogy.
The Grainger County Archives was established in 2001 by the Grainger County Commission.  In 2002, under the supervision of the Grainger County Public Records Commission, assisted by personnel from the Tennessee State Library and Archives, the permanent-value records were transferred from the courthouse basement and the old high school auditorium to the top floor of the old Rutledge High School building, where the Board of Education donated two rooms for the Archives' use.  At that time the main purpose of the Archives was to rescue the remaining county records from further deterioration and vandalism, and to begin to organize the loose records for microfilming and permanent storage.
The Grainger County Archives opened to the public in 2005, with the donation of the genealogy collection of the Rutledge Public Library.  This included some history, genealogy, and family genealogy books, as well as an almost complete collection of microfilm of Grainger County records.
In 2005 a microfilmer from the Genealogical Society of Utah began filming the loose records series which had been completed to that point by the Archives' volunteers.
Today the large collection of the Grainger County Archives is available to all genealogists, historians, and researchers who are interested in the recorded history of this county.  Meanwhile, Archives personnel and volunteers continue the time-consuming process of organizing, cleaning, filing and indexing the remaining loose records for microfilming and permanent preservation.
Location:
Top floor of the Board of Education Bldg.
7850 Rutledge Pike (Hwy 11-W)
Rutledge, Tennessee
Hours:
Tuesdays, 9:30-3:30
(except county holidays)
Stevvi Cook, Archives Director
P. O. Box 408
Rutledge, TN 37861-0408
(865) 828-3693
oldrecords@graingerarchives.org